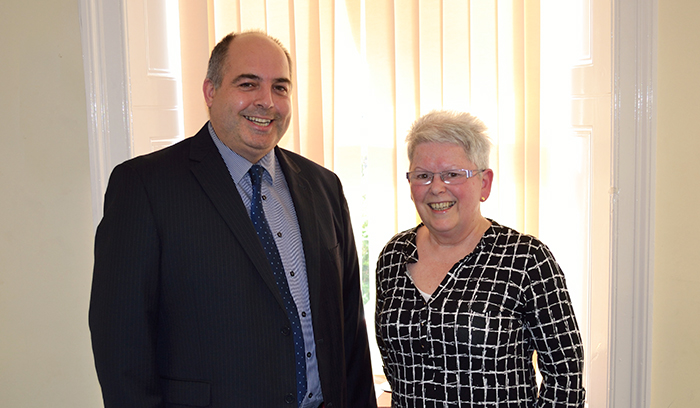 Colin Frame & Sylvia Dougall
Greaves West & Ayre has bid a fond farewell to its longest serving member of staff. Sylvia Dougall retired after working for an amazing 481/2 years in the admin team. Sylvia, who is married to John, joined Greaves West & Ayre in 1967 as a typist. Prior to that she worked for A C Burns Agricultural Chemist in Tweedmouth, after completing her education at Springhill School.
During her 481/2 years Sylvia has witnessed many changes. For example, when she started there were only about 20 people all working out of the Sandgate Office. Greaves West & Ayre now has 10 Partners and nearly 90 members of staff operating from six offices. Also in 1967 the 3 girls who made up the 'typing pool' all used manual typewriters. Now of course, like any modern business, Greaves West & Ayre is fully computerized. One thing that remained consistent for Sylvia throughout her career was the great company. Many of her colleagues have become good friends, in particular Daphne Bell and Wendy Bertram. In fact the company is what Sylvia thinks she will miss most in her retirement. To address this problem she hopes to get a dog. However, her immediate plans include a holiday to Kefalonia . . . and nobody can say she hasn't worked for it!
All of the partners and staff at Greaves West & Ayre wish Sylvia a long, healthy and happy retirement.