Each year we take on a number of graduates as part of our Graduate Training programme. Many of our senior staff, including Partners, joined us as graduates and went on to carve out a career with us as financial experts.
The Training
Our Graduate CA training  programme has been designed to support you towards becoming a professionally qualified Chartered Accountant, gaining experience across our full range of specialisms including commercial and corporate financial accounting, tax and VAT consultancy, audit and assurance, company secretarial and payroll.
Your training will include spending time in classes at college (usually Newcastle or Edinburgh), completing the exam modules and working within our contemporary, high-tech offices. Throughout you will receive support and mentoring and will be provided with all the practical tools necessary for a career in accountancy.
When you successfully complete your training, you will hold a qualification from either the ICAS (Institute of Chartered Accountants Scotland) or ICAEW (Institute of Chartered Accountants England & Wales). These qualifications are recognised and valued worldwide.
We also encourage graduates to join our wealth management team and train to CII Diploma level in Financial Planning or as a Paraplanner with the opportunity to qualify as a Chartered Financial Planner should they have the drive and ambition to do so.
Your salary will be competitive and will increase with each year of study you complete and when you become part qualified. We also cover the costs of your study package, first sitting of each exam and travel expenses.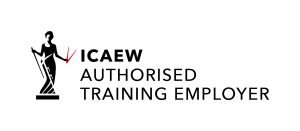 GWA holds the 'Authorised Training Employer' accreditation of the ICAEW and is an Authorised Training Office of the ICAS, both of which demonstrate our commitment to supporting trainees.  We are dedicated to helping students become successful professionals and are proud to be able to offer excellent technical training and work experience and also to pass on our professional values of Quality Advice Quality Service to every student we welcome to the GWA team.
The Ideal Candidate
It takes hard work and dedication to successfully complete any training programme.  However, if you believe you have the commitment, are friendly, confident and approachable and will get on well with our clients and the rest of the team then we would love to hear from you.
You will need to have at least a 2:1 degree in any discipline (obtained or predicted).
If you would like to learn more please get in touch or alternatively forward your CV and a covering letter to:
Lesley Clark
Greaves West & Ayre, 17 Walkergate, Berwick-upon-Tweed. TD15 1DJ
Email – l.clark@gwayre.co.uk