GWA Wealth Management Reaches Milestone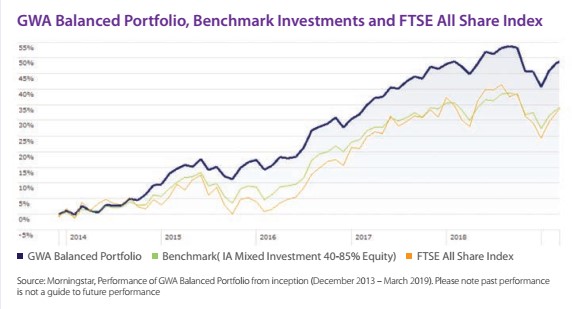 GWA Wealth Management recently celebrated the 5-Year Anniversary of running our own portfolios.
Clients not familiar with the GWA Wealth Management service may require a little more enlightenment as to what this actually means. As well as advising on life assurance and protection, pensions, investments and estate planning, GWA also has an in-house Investment Committee responsible for building and monitoring our own model investment portfolios. Our Committee, runs five risk rated model portfolios and in addition works with external investment experts in order to ensure that money is invested in a way that best suits clients' current and future needs.
We are very proud of how our portfolios have performed over the last five years. Outperforming their relevant benchmarks across all risk parameters, they have also protected our clients' assets from the full force of the market falls that we saw at the end of 2018.
Our portfolios are based on risk profiles of 1 to 5 (with a rating of 1 being the least risky and 5 being the most risky). Below we have illustrated the performance of our most popular portfolio, the GWA Balanced, which is rated 3 out of 5 on the risk scale.
Our Balanced Portfolio has delivered an average of 8% gross return per annum for our clients over the last five years (inclusive of fund charges, but before adviser and product charges). As the graph demonstrates, The GWA Balanced Portfolio (shown by the dark blue line) outperforms the benchmark (green line) and the FTSE All Share Index (orange line) over the same period.
Whilst we cannot, of course, guarantee future returns, we believe that our people and the practices we follow will continue to deliver for many anniversaries to come.
If you would like more information on GWA Wealth Management services, or would simply like to talk to someone about how to ensure your financial wellbeing is best managed across all your different stages of life, please do come and have a chat with one of our qualified advisers.
Alternatively, take a look at our Wealth Management pages.
Greaves West & Ayre Wealth Management is a division of Greaves West & Ayre, a firm authorised and regulated by the Financial Conduct Authority for Investment Business (FRN 100825).