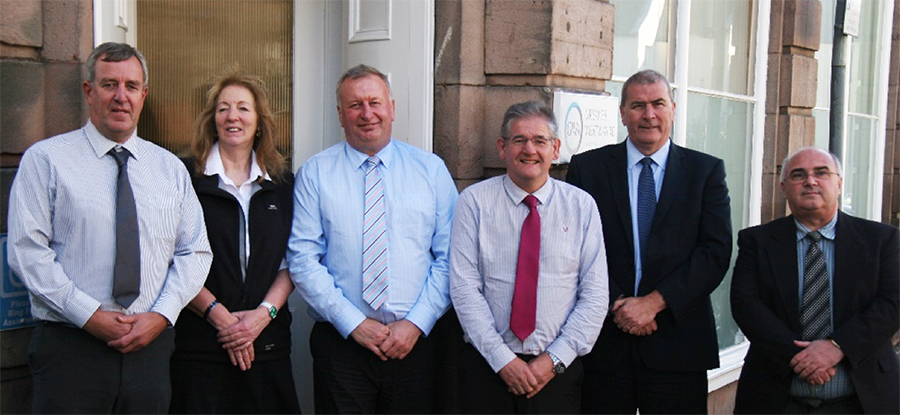 From left: Brian Simmons, Joyce Freeman, Brian Tait, Anthony Hogg, Derek Simpson, Tommy Wilson
Greaves West & Ayre is celebrating the long service of six of its much-valued members of staff. They have each spent their entire working careers at our Berwick-upon-Tweed offices.
So, what has kept them there? They all admit to enjoying their jobs and have felt part of an organisation with a clear vision reinforced by the consistent presence of Ayre family members at the helm, now in their fourth generation.
Anthony Hogg who started work in Farm Accounts on his 19th birthday in October 1976 and is now Senior Farm Accounts Manager commented, "There is an ethos of mutual respect which has survived as the number of employees has grown. In Berwick, there was no other job that could fulfil the chance for interesting work combined with that feeling of camaraderie."
The longest serving member of staff, Joyce Freeman, comments "There have always been interesting characters to work with and staff who work hard are rewarded as well as given opportunities to expand their skill base."
Brian Simmons, Tommy Wilson and Anthony Hogg were all in the same class at Berwick Grammar School. Anthony and Brian played for the same rugby team enhancing the team spirit both inside and outside work. Anthony remembers nervously going for his interview with the late Ian Davidson to be met with an "I know you!" as he often watched the rugby matches, resulting in a 6-month trial which has now seen Anthony through 40 years.
Tax Manager Tommy Wilson, with his exceptional memory for dates, remembers gaining work experience with Greaves West & Ayre while still at school in 1973.
Brian Tait became part of Greaves West & Ayre after it took over his firm G S Fleming & Wood in 1993. "I was simply asked 'we've taken over your firm, there's a job here, do you want it or not?' There was no question about skills or capabilities, but neither did I question the great opportunity so I gave an instant 'yes' in response and have been here ever since."
When asked for their fondest memories of their time at Greaves West & Ayre, all agreed that it is the people and characters that they remember most. Derek Simpson, who joined Greaves West & Ayre after 3 years at university in 1981, commented, "The things I remember mainly involve the friendships and feelings of fellowship rather than any specific events. Everybody pretty much gets on with each other even if they don't meet up outside work."
In particular, the late Bill Renton is remembered with immense fondness. Derek recalls, "Bill was not a partner, but had worked in many of the different departments and built a great relationship with the partners, so was able to go and speak with them on your behalf which was such a help when we were younger."
Ian Davidson, Jim Coats and Bill Simpson were also mentioned as uplifting characters. Brian Simmons recalled the fact that Gordon Ayre was the Danish Vice Consul for Berwick, "There was always a photo of the King of Denmark in the reception of the Sandgate office as a result. If somebody Danish arrived in Berwick say through the harbour, and got into trouble, Gordon Ayre would save their bacon! It is this kind of heritage that makes Greaves West & Ayre feel part of the town we live in."
The early GWA days of some of the current partners' were recalled with Brian Tait commenting, "It is great to have seen colleagues working their way up through the firm; we have all provided training for some of the current partners and can remember some of them coming in to provide holiday work when they were young."
Momentous world events have occurred during the last 45 years such as Margaret Thatcher becoming Prime Minister, Lord Mountbatten's killing by the IRA and Elvis Presley's death which Joyce remembers on her drive in to work one day hearing song after song of his played.
And the things that have changed with Greaves West & Ayre? Apart from the increase in the number of people, all agree that it is the technology that has changed the most. In the early days, new employees were not allowed an automatic adding machine for two years as they had to prove that they could count first; mental arithmetic and slide rules would be used. Anthony commented, "All of us could glance at the total of a list of numbers and say whether the answer was right or wrong."
Now all rely on Excel. Brian Simmons commented, "While I miss the satisfaction of mentally adding a list of figures, Excel does make everything so much quicker and easier! Technological changes have improved the ease of producing everything including timesheets, and has also enhanced the amount of different services that we now provide such as IT support."
Everyone also recalled how junior staff regularly used to have to carry a cloth bag containing thousands of pounds along the High Street from the bank back to the office for clients' wages. In later years the cloth bag was replaced by a case attached to a handcuff. Now, thanks to technological advances, this is all done electronically.
How do the old hands think they are perceived by the relative newcomers to Greaves West & Ayre? Brian Tait responded, "There is massive mutual respect throughout the firm and while the younger folk may think we are a bit old school in our work style, they make us feel respected for our experience and actually the firm is old school deep down in all the best ways while managing to be forward looking for its clients."
Derek Simpson added, "We have been involved with staff training and all have people who were trained by us still at the firm so we must have done something right!"
And the future of Greaves West & Ayre? Anthony Hogg summed up everyone's thoughts by saying, "I personally feel very positive about the future of Greaves West & Ayre especially with the move to the new Berwick office where it will be easier to see more of the other staff regularly and a shared kitchen where people will go for coffees and lunch. I'm looking forward to it."
The partners at Greaves West & Ayre would like to say thank you to each of these people for the years of hard work which have helped us to be the successful firm we are today.