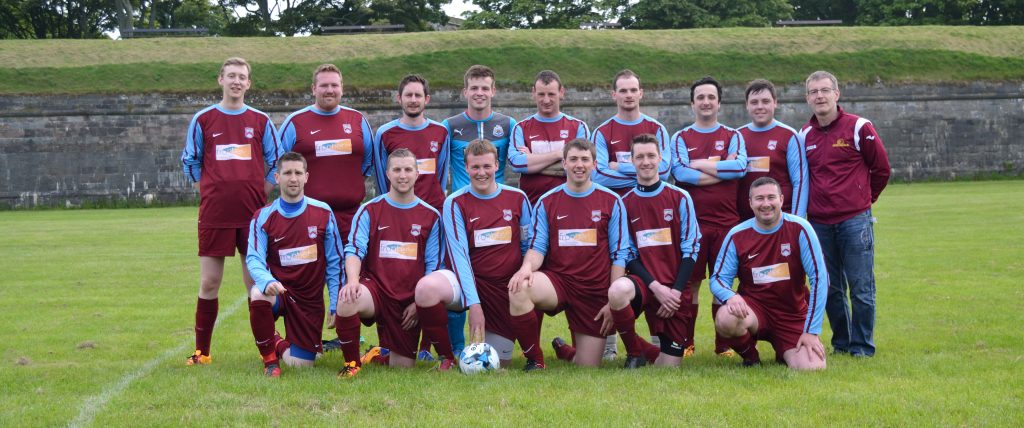 On Tuesday night The Greaves West & Ayre team turned out for the opening game of the Berwick Charities Cup 2016 tournament. The final score of 8-3 does not reflect on how well they played for the first 65 minutes and we are all proud of their spirited performance.
Berwick Charities Cup, informally known as 'Stanks' after the ground it is played on, is an annual football competition that raises thousands of pounds for local good causes.
We decided to play a 4-1-4-1 formation with Black in goal, defence Thorburn, Morton, Beveridge and Renton, McAskill was given the role of playing in front of the back four, Midfield was Hamilton, Wedderburn, Thomas and O'Brien, with Burns up front.
The game started cagily with neither team wanting to give anything away, and the first twenty minutes passed with no goals. The opposition (Highfield United) were getting  a lot of joy down our right hand side, however, and this resulted in the winger eventually breaking through to slot past Black in goal. This didn't deter the lads who pressed for the equaliser with Burns, Thomas and O'Brien all going close. Much like the first goal the winger broke down our right again to cross for their second. A tactical re-shuffle with 'Kappa' (McAskill) moving to right back and Thorburn into midfield seem to do the trick as Burns pounced on an error to pull a goal back. The momentum had turned onto our side and some bright play saw Wedderburn being brought down in the box for a penalty. Burns stepped up to double his tally but was denied by a great double save from the keeper. This set back became even worse just before half time as the opposition got their third.
Half time the boys refuelled but Renton had to bow out and give in to the old rugby injury, this brought Ayre into the team as a straight replacement. I don't know what had been in the water that Olly purchased but we started off the second half like a steam train. With the outstanding Beveridge marshalling the defence, Kappa now in control of their right winger, Thorburn now covering the defence and the running of Wedderburn, Hamilton, Thomas and Burns we were in total control. A quick goal kick from Black was headed on by Thomas to Burns who ran through for a strike on goal which was well saved by the keeper but the tireless Wedderburn was there too slot home, 3-2 game on. A minute later it was 3-3. A quick break down the right saw Thomas go clear and finish well. The opposition were starting to fall out and get worried.
After a short while the long grass and the lack of fitness began to show on our lads. A couple of quick breaks by Highfield saw us go further behind. To their credit Beveridge, Morton, Ayre and McAskill never gave up and continued to put in their tackles. O'Brien who had put in a good shift down the right was replaced by Zigmantavicius to a standing ovation. Wedderburn, Hamilton, Thomas and Burns continued to make chances to try and claw us back into the game but we went further behind as our legs started to go. For the last fifteen minutes Cockburn was brought on to replace the tireless Thorburn who had played his part. The lads continued to press for a goal but we conceded 3 further goals late on.
If the game had finished after 60 minutes then we were by far the better team. Man of the match for me was Michael (Bev) Beveridge. Special mention to the running of Hamilton, Wedderburn, Morton and Thomas who never stopped working. The best tackler goes to Kappa who doesn't like anybody going past him. Special praise to Thorburn who had a tricky start but came into the game as he found his feet. The two centre halves who played at a half each, Renton and Ayre did their bit, O'Brien down the right never stopped working and almost got his goal. Steven Burns always gives his all and gave their defence a torrid time and never stopped trying to get a goal. Finally to the new boys Ziggy and Cockburn who had both never played in an 11 a side game but came on and did their bit.
A great bunch of lads who were a pleasure to manage, bring on Stanks 2017, training starts next week!!!
David Black
Head of Accounts