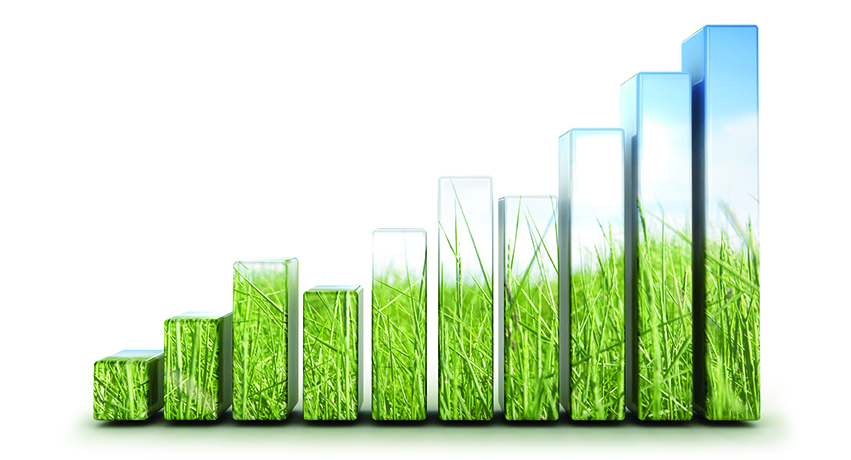 There have been significant adjustments to the averaging legislation. As of 6 April 2016, farmers have the choice as to whether they average their profits over five years, two years or not at all.
A 'volatility test' must be taken to check whether averaging over five years is an option. There are two ways of doing this. The first takes the average of the previous four years' profits and compares this with the latest year. As long as one of the resulting four-year averaged profits and the profits for the fifth year is 75% or less than the other, an averaging claim can be made. This is illustrated below.

The average of the four years' profits before 2016/17 is £28,750. Since the fifth year's profits of £10,000 are 34.7% of this, the volatility test is met and an averaging claim can be made.
The other way in which the volatility test is deemed to have been met is if the relevant profits of one or more of the five years under consideration is £nil.
Individuals who have been in business for fewer than five years will only be able to use two-year averaging, until they have a five-year trading history. Averaging still does not apply to limited companies.
For most farmers two-year averaging and other planning techniques work fairly effectively but there will no doubt be other occasions when five-year averaging works extremely well. It should offer additional flexibility to farming clients whose profits have fluctuated over a number of years. There could also be advantages for a farmer who, as a result of the cost of setting up in business, generated no profits in the first five years of trading, followed by taxable profits in the sixth tax year.
Of course other things must be considered too. If a farmer has other income, eg from pensions, property or one-off capital gains, these will also need to be included when calculating whether to average over a five-year or two-year period. It could mean that while a fall in farming profits may be beneficial to one partner in a farming partnership, the position may be very different for another. Clients may also want to consider carefully the timing of when new partners are introduced to the business or existing partners leave. Deferring or bringing forward these 'events' may affect the averaging calculation and the resulting tax liability.
In addition to the introduction of five year averaging adjustment, the ability to apply marginal averaging where the profits for one year are between 70% and 75% of the other year has been removed.
However some aspects of profit averaging remain unchanged. These include:
• An averaging claim cannot be made in the year of commencement or of cessation. Note that this includes individual partners joining or leaving an existing partnership.
• Losses in a year are treated as nil profits for the averaging calculation, with the loss available to offset in the normal way.
• Averaging cannot be applied when cash accounting is used; in other words, if the tax return is prepared on a cash in, cash out basis.
• Profits for averaging will still be calculated after any capital allowances claim.