Scottish Budget 2020/21 – Headlines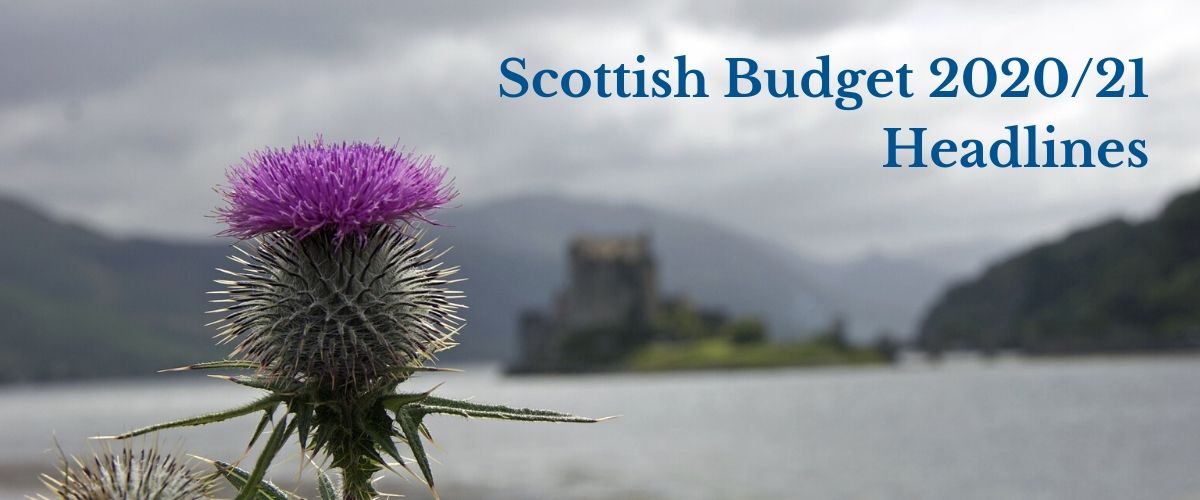 Yesterday the Scottish Parliament saw the Minister for Public Finance and Digital Economy, Kate Forbes, deliver her maiden Budget speech.
The event proved to be unique as it was the first ever Scottish Budget delivered prior to its UK equivalent. As a result, the full picture remains unclear until the UK Budget on 11 March. The Scottish government has reserved the right to revisit the Budget following any announcements coming from London next month.
Highlights announced in the Scottish Budget include:
Income Tax
no changes to the starter, basic, intermediate, higher and top rates of Scottish income tax
freezing the income tax higher rate threshold (41%) at £43,430 and the additional higher rate threshold (46%) at £150,000
increasing the income tax starter tax band (19%) threshold from £14,549 to £14,585
increasing the income tax basic rate band (20%) threshold from £24,944 to £25,158
As a result, there will be increasing divergence between higher rate tax payers in Scotland and rest of UK taxpayers, with top earners seeing their threshold figures frozen but basic and intermediate taxpayer figures increasing in line with inflation.
Land and Buildings Transaction Tax
Land and Buildings Transaction Tax (LBTT) for residential property will be unchanged
a new 2% LBTT band will be introduced with effect from 7 February 2020 for non-residential leases when income rental is above £2m. This will not apply for contracts entered into prior to 6 February
This is a change from the existing band of 1% for all non-residential leases whatever the income rental.
Business Rates
introducing a new intermediate property rate of 51.1p for properties with a rateable value between £51,000 and £95,000
This will benefit businesses who will be affected by the non-domestic rates bill.
Scottish Child Payment
introducing a £10 per week payment for low income families with a child under the age of six. This is an additional payment on top of child benefit.
It is worth noting that as the SNP is a minority party, it needs the support of at least one other party to be able to pass the Budget. With just two months between this announcement and the new tax year the challenge will be ensuring that a majority can be found – there are normally five months for this process to take place.